A Mecca for Outdoor Enthusiasts
So, you're making the pilgrimage to Zion National Park, but where should you start? Let me help you plan your trip to Zion to ensure it's an unforgettable experience. I'm not just a fanatic of Zion, I'm a local to Zion. I live under an hour away in nearby St. George, Utah. I try to visit Zion as often as possible and once you get out here for yourself, you'll know why!
Start Here
If you're planning a trip to Zion, you'll probably want to know how to get there first, right? Zion National Park sees many visitors from western states like California, Nevada, Arizona, Colorado, etc. Much of those visitors coming from western states opt in for the road trip and drive. Zion is about a 25 minute drive from US Interstate 15, not too far off the beaten path.
There are also many visitors coming from farther reaches like New York, Beijing, Frankfurt, etc. who take to the skies for travel. There are a couple options for flying to Zion, the best ones being to McCarran International Airport in Las Vegas and to the St. George Regional Airport.
Things to Do
Perhaps the biggest part of planning your trip to Zion is for the activities & experiences you'll be able to enjoy. I lived a short while in upstate New York and a few years in The Netherlands – and yes, they are beautiful places, but they're radically different than the American Southwest.
Zion National Park is truly one of the most magnificent and unique places in the whole world. In accordance with Zion's majestic, unique landscape, your trip should be filled with majestic, unique experiences. Here are a few things you can plan to do in Zion:
Hiking: Hiking is a no-brainer in Zion. Though distance and difficulty vary, there's something for everyone! Some of the worlds' most famous hikes are found right here in the canyon! Some of the popular hikes include; Angels Landing, The Virgin River Narrows & The Subway. Zion does however have many other not-so-popular hikes which I highly recommend. A couple of these are Emerald Pools and the Zion Overlook. For our complete list of hikes in Zion, click here.
Climbing: Okay, so I'm personally no Alex Honnold.. Okay, I'm the farthest thing from Alex Honnold. I'm not a climber, but this whole area (not just Zion) is incredible for rock climbing. I've got lots of friends who love to rock climb and boulder. Some local places are Moe's Valley, Prophecy Wall, Snow Canyon State Park, Black Rock, Chuckwalla, etc. Check out this page for more info.
Canyoneering: Canyoneering is HUGE in Zion and if you don't know what canyoneering is, it's basically just hiking from one end of a canyon to the other, but it often times involves climbing, rappelling, swimming, wading and other physical activity. It's an exhilarating sport and Zion is often called "the Mecca for canyoneering". Visit our Canyoneering page to learn more.
Rappelling: Rappelling is kind of like rock climbing, but it's all about the decent. It's a blast! Southern Utah is decorated with beautiful cliffs and canyons, so it's naturally a hot-spot for rappelling. If you've got an adventurous heart, you may want to look into rappelling while here.
Swimming: Obviously, most resorts & hotels in Zion have a swimming pool and on a hot summer day (which if you're not familiar to the Southwest heat.. it's generously over 100° fahrenheit – HOT!) it's a great activity to relax and cool off. Now, hear me out, hotel swimming pools are nice and all, but I'm mostly talking about swimming in the natural waters of Zion. There are several places in Zion where you can hop in swimming pool of mountain runoff. Splashing into the beautiful water of the desert is seriously one of my favorite things. Summed up.. Don't hesitate to pack a swimming suit.
Tubing: Yes, tubing! During certain parts of the year you can rent an inflatable tube and float down the cool Virgin River as it winds meanders below the heavenly sandstone spires of Zion. The experience is that of a relaxing and even spiritually cleansing kind. It's sure to be a highlight of your trip. I highly recommend it!
Concerts & Shows: Springdale (the little town next to Zion) is really one of the neatest little towns in America. Much like Jackson Hole, Durango or Leavenworth (if you don't know those towns – look 'em up!) it's full of character and charm. One of the treasures of Springdale, Utah is the O.C. Tanner Outdoor Amphitheater where you can see different concerts & shows. One of these is the Siva Pasefika luau dinner show starting in June 2020. Be sure to check out the O.C. Tanner  schedule while planning your trip to Zion.
Dining: Again with that S p r i n g d a l e place! I live about 45 minutes away from Springdale, but I happily make the trip out there for dinner all the time. In fact, there's so much good food in Springdale that when you walk the street during the evening, your nose is filled with the savory aromas of all kinds of food – American, Mexican, Southwest, Thai, Chinese and more. I'm not even exaggerating it. Springdale is a feast for the belly, eyes, nose, and soul.
Festivals: Because Zion is a top destination for tourism and travel, it's naturally become a destination for festivals. The 12th annual Zion Canyon Music Festival takes place September 25th & 26th 2020. Zion Canyon Native Flute School takes place from March 7th to March 12th 2020. Other festivals and events include half marathons, Ragnar races, birdwatching, plein air painting and more!
Art: A lot of people might overlook this, and I won't be offended if you do, but Zion offers an incredible opportunity for art enthusiasts. I love creating art and I also love viewing art. Springdale has several art galleries where you can look at photography, oil painting, pottery & ceramics, watercolor, etc. If you are an artist yourself, Zion is a great place for photography, but also setting up an easel and painting plein air!
What to Pack
When planning your trip to Zion you should be very attentive to what you pack. There's obviously a lot that goes into packing and since I'm not your mother, I can't do it for you. But I can give you a few helpful tips. Keep in mind there are a couple rental places in Zion for you to rent your adventure gear, so you don't have to pack it all. There's also a Walmart in nearby Hurricane, Utah.
The most important things to pack are water, sunscreen, worn in hiking shoes and a swimming suit 😉. Always pack some kind of water when you're hiking around in Zion. Bring a camelback, water bottle, whatever suits you best. Sunscreen is also very important. Zion gets lot's of sun and sunburn can lead to heat exhaustion and other short term as well as long term ailments. Use sunscreen! Depending on the time of year, you'll either want light, breathable clothing or heavy, warm clothing as Zion can be either very warm or very cold.
Weather
Weather in the Park can be all over the map. Hot or cold, rain or shine, always check the weather before you go. Flash floods in Zion's narrow canyons have killed many people. Just recently, a woman slipped on ice and fell to her death from Angels Landing. Be mindful of the weather and it's impacts on hiking conditions. Read our Weather page for more information.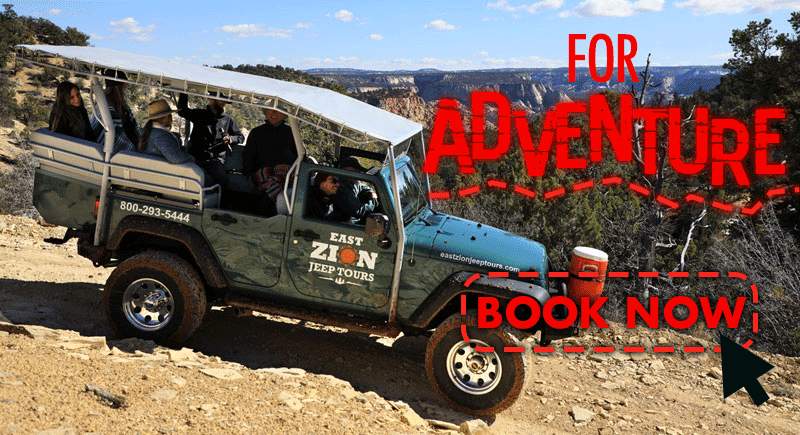 When to Come
The most popular season in Zion National Park is in late spring and summer (although it's getting more and more popular throughout the year). A lot of factors go into when you should plan your trip to Zion. Weather, prices, work, crowds, etc. I've already written a blog post about this very thing – When is the Best Time to Visit Zion National Park?
I'm a believer that sometimes the best adventures are in the direction of the wind, so make your plans flexible to allow some spontaneity. But, by all means, make a plan. Zion might be a once in a lifetime opportunity for you and you deserve a once in a lifetime experience.