Grafton Ghost Town
Grafton Ghost Town near Zion National Park. Though I can't attest to any actual ghosts at this abandoned Pioneer town, I can say that the town itself is much like a ghost along the route to Zion. Zion National Park sees all kinds of crowds throughout any given day, yet very few of them even know that they're passing a historic (and actually famous) ghost town. Grafton, Utah is said to be the most photographed ghost town in the West.
Grafton in its Glory
First settled in December 1859 as part of the cotton mission sent by Mormon leader Brigham Young, Grafton was first called Wheeler and was about a mile downriver of where it is now. When Wheeler was destroyed by the flooding Virgin River on January 8, 1862, Pioneer settlers rebuilt the town, calling it New Grafton, named after Grafton, Massachusetts. The town began to grow and by 1864 there were 28 families living and farming in Grafton. Some of the original orchards are still standing today.
For a short time, Grafton was the county seat of Kane County, but the county line was later changed and Washington County absorbed Grafton. Grafton was the only settlement in the area on the south bank of the Virgin River. After the outbreak of the Black Hawk War in 1866, Grafton was completely evacuated to nearby Rockville, Utah, due to fear of Indian attacks. By 1890 there were only four families living in Grafton. The nail in Grafton's coffin was the closure of the local branch of the Church of Jesus Christ of Latter-day Saints (also known as Mormons) in 1921. In 1944 the last residents of the town left.

An Old Western Movie Set
On May 23, 1946, a United Press news article noted that the town had been purchased as a film location site by Harry Sherman, a movie producer. However, Grafton's film fame started long before 1946. As far back as 1929, Grafton was featured in the first outdoor talkie (talkie was the popular term for the first movies (which word comes from the term, "moving picture") with sound) Old Arizona. Later, Grafton appeared in the movie Butch Cassidy and the Sundance Kid. Will it be featured in any new movies?? 
How To Get There
Driving on Highway 9 toward Zion National Park, you'll drive through Rockville, Utah. On the right (south) side of the road, you'll turn down Bridge Road. There may not be a visible road sign for Bridge Road, but there is a small sign that says "Grafton" with a little arrow pointing down the road, but be warned, it's easy to miss! Shortly after turning you'll cross an old steel bridge spanning across the occasionally mighty Virgin River. You'll keep following this road which eventually turns into a dirt road. This is a pretty drive and will take about 5 to 10 minutes to get to Grafton. As you're nearing Grafton, you'll pass by a turn off road toward Grafton Cemetery. Grafton Cemetery is also a very neat historical stop. Click here to find Grafton on the map!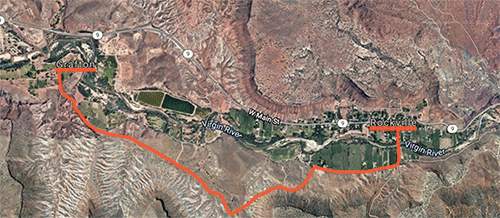 Please be careful and respectful while exploring the Ghost Town and Cemetery.
Study up on the weather before going to Grafton.
Follow us on Instagram and Facebook!