Family Vacation in Zion
Summer has come knocking on the door again? Take your next family vacation in Zion, you won't regret it. Zion National Park has something to offer for all ages. Whether as a family or individually, kids, teenagers and parents can all find an adventure suited for them.
One of many visitors to reach out to us this past year was Brian from Alabama. Brian and his family visited Zion National Park in the early summer and had a fantastic vacation together. "Zion is my favorite place in the whole world!" Brian told us. "We had such a great time there, visiting one of the most beautiful places on earth with my family. I'm definitely coming back!" Each year, hundreds of families make their vacation in Zion and each year we get lots of people telling us that Zion is their "favorite place" and they're "definitely coming back!"
Family Activities
There's lots in Zion for the whole family to enjoy together! Most hikes in Zion are family-friendly (not too difficult). But in case you were wondering, hiking isn't the only thing to do in Zion. Zion offers many more family activities like fishing, biking, horseback riding and more. Another great family activity is the East Zion Jeep Tour.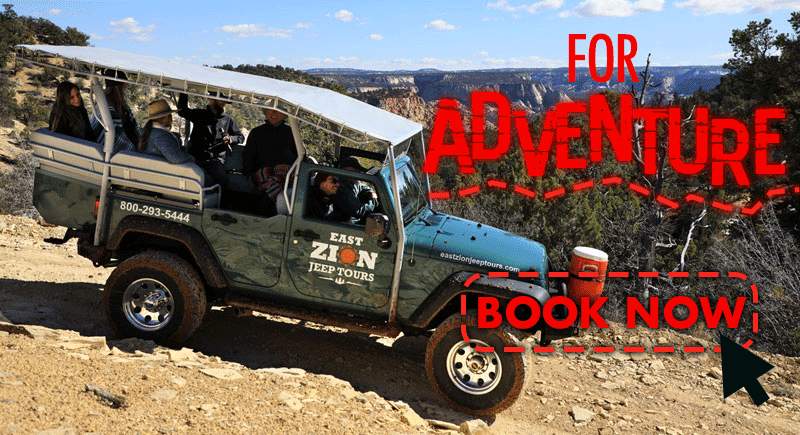 Best Family Hikes in Zion
Of course, hiking depends on yours and your family members' preferences. No matter where or when you're hiking, remember to come prepared. BRING WATER, wear sunscreen, use worn-in hiking shoes, dress according to the weather. Some wonderful, easy hikes to do as a family are Emerald Pools, Weeping Rock & Sand Bench Trail.
Emerald Pools

Difficulty Level: Very Easy
Time Frame: 2 – 4 hours
Distance: 2 miles there & back
Accessibility: Year round

Weeping Rock

Difficulty Level: Very Easy
Time Frame: 10 – 20 minutes
Distance: Under a mile
Accessibility: Year round

Sand Bench Trail

Difficulty Level: Very Easy
Time Frame: 1 – 2 hours
Distance: 4 miles there & back
Accessibility: Year round
Family Time Outdoors
In a recent article from the National Wildlife Federation, there are many benefits associated with being outdoors. Did you know the average American child spends as little as 30 minutes a day in unstructured play outside and more than 7 hours per day in front of a screen? It's important for people to spend time outside, but it's especially important for children.
Spending time outdoors increases Vitamin D levels, which is important to bone, heart & mental health. Being outside is also paramount in reducing stress levels, which can then improve many health issues for children. There is perhaps nothing so wholesome to do as a family than being outside with each other.
Educational Opportunities
Though away from school, vacation can still be a great time for learning (and it can still be fun!). The Zion Canyon Visitor Center, The Zion National Park Lodge, The Zion Nature Center, The North American Wildlife Museum at Majestic View Lodge and the Zion Human History Museum are all wonderful places for learning about the wildlife, history, geology & plants of Zion National Park.